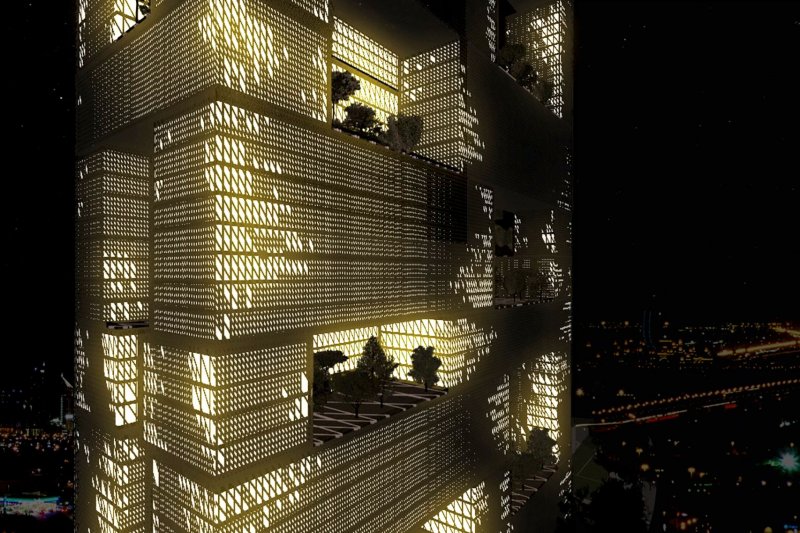 General Info
---
Area: 438.867m2
Client: Mohamad Almogil Group
Architecture: Aires Mateus & Associados, Lda
Details
---
The concept of THE EDGE project was based on four architectural principles. These principles address how to design in a stimulating but ever-changing urban environment, how to provide a multiplicity of creative workers with their own identity within a collective support system, how to develop an environmentally sound support system and how to provide the necessary internal layout that encourages interaction and connectivity.
The four principles are:
1)Protecting: Creating a void, a relief from the city within the city. This internal void is on average at 20 meters wide. It is occupied on the ground by a commercial, pedestrian axis that connects between the different cores of the building and between the building and the outside world.
2)Grouping: Breaking the mass of the building down into clusters to give each business entity its own identity in the skyline of the city. The clusters range in size from 5,000 to 15,000 m².
3)Staggering: Separating the clusters from each other to allow for views through the mass of the building to the city.
4)Connecting: The clusters are arranged in such a way as to share main entrances and facilities on the ground level and to share common facilities in the form of keystones that connect between the two sides of the building.
Although several massing scenarios could be generated out of the main principles listed above, only two architectural solutions were developed. The vertical solution consists in a 60x170 m² complex 300 m high whilst the horizontal solution consists in a 60x400 m² complex 130 m high.
The structural logic of the building consists of independent clusters that are connected together by the vertical cores. The construction process also follows from the logic of the organization of the building, allowing for a phased construction of independent parts.
The superstructure of the bridges, cantilevers and keystones can be comprised by steel modular façade s supported by the cores. The chords, diagonals and posts of the trusses are hollow sections connected by welding. The geometry was designed to respect a regular spacing and to turn pre-casting and assembly easier. By employing pre-cast elements, it also minimizes assembly time resulting in a faster rate of construction. These trusses are covered with concrete, granting the finishing clamed by the architectural design and securing an efficient fire protection.