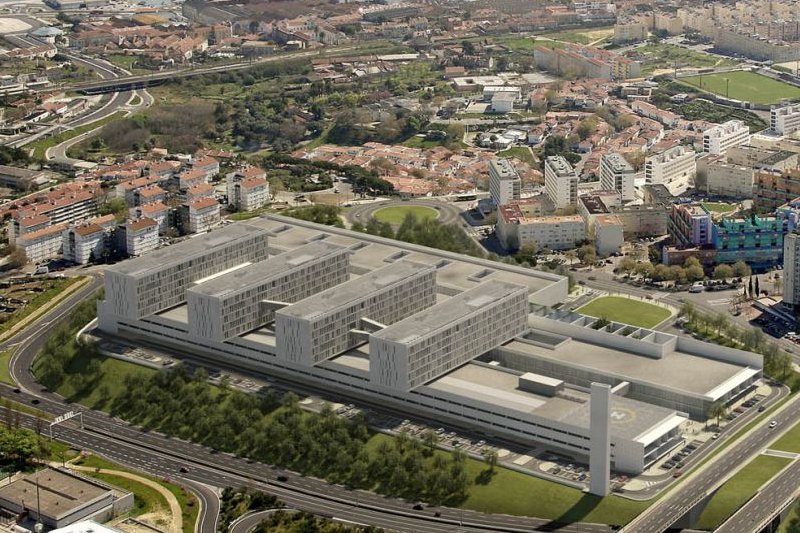 General Info
---
Area: 179.980m2
Client: SUCH - serviço de Utilização Comum dos Hospitais
Architecture: Souto Moura Arquitectos, SA
Details
---
This hospital has, as a principle, to be a quality hospital projected for the Future. The building has been designed to be technologically advanced, integrated in the environment and energetically sustainable. The hospital is intended to be a "Central Hospital" with a medical program that incorporates a large number of medical expertises, including the development and research of new therapeutic methods.
On the development of the project there were as base the following premises:
Safety:
– Building earthquake-resistant, with the aim of ensuring only the stability but also ensure the functionality of the building after the occurrence of an earthquake;
– As a Hospital unit it was ensured the operation even in disaster situations.
Functionality:
– Being the users of a hospital in a weakened condition, the environment treatment (indoor air quality, heating, cooling and humidification) is very important. In special areas such as the Biotery, the operating rooms, the intensive care units, in the burns and infectious diseases unit, there were foreseen independent systems, with special filtering levels and hygienic units. In these areas the specific control temperature and humidity is also especially cared.
– The project foresees complete redundancy in the feeding of power, water and gas to the buildings.
– Each compartment has a proper environment with proper lighting levels for the occupation and the type of tasks to be developed.
– In the operating rooms it was foreseen an isolation system in order to minimize the level of vibration within these areas.
Energy efficiency and sustainability
– Project with energy efficiency options and rational use of energy foreseeing the installation of a Cogeneration/Trigeneration Systems and reuse of Solar Energy.
Afaconsult was involved on Schematic Design project stage.