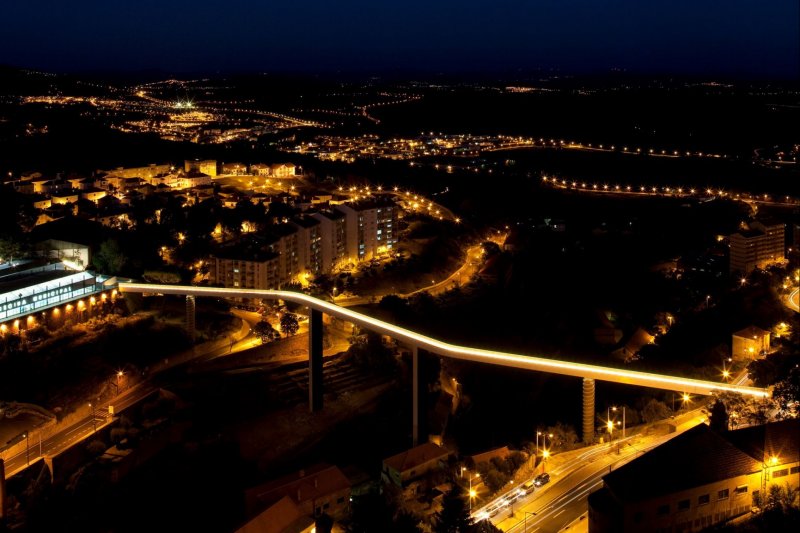 General Info
---
Area: -
Client: CovilhãPolis
Architecture: jlcg arquitectos, Lda
Details
---
Pedestrian bridge over Ribeira da Carpinteira, with 220m long and 4.40m high was the solution to shorten distances at Carpinteira valley in Covilhã.
Carpinteira Valley is characterised in this region by its abrupt slopes, moulded by walls and granite outcroppings and by a set of sparse and uncharacteristic buildings. Domineering over the valley, on its upstream side, there is the Serra da Estrela chain. On the downstream side there is the vastness of Cova da Beira.
On its design the bridge serpentines through the valley, in three distinct zones: the central one which unequivocally is perpendicular to the valley line with the other two bending and oriented towards its moorings. The link between the two points is no longer the shortest distance between them. The tensioned geometry of the design resulting from this paradigmatic rupture creates perceptive views and provokes various visual orientations. Simultaneously, the proposed route inflexion signals the pedestrian trajectory, establishing points for pause and reflection.
The bridge pedestrian footpath keeps up at a constant altitude in all its length and is supported by two longitudinal metallic pillars, web plate girder with 1.75m height, forming together with the transversal structure that supports the footpath, a transversal U-section. The bridge is divided in five continual spans with an inner span of 49m. The two central pillars in a mix of reinforced concrete and steel 40m long and the height of the reinforced concrete pillars is approximately 20m.