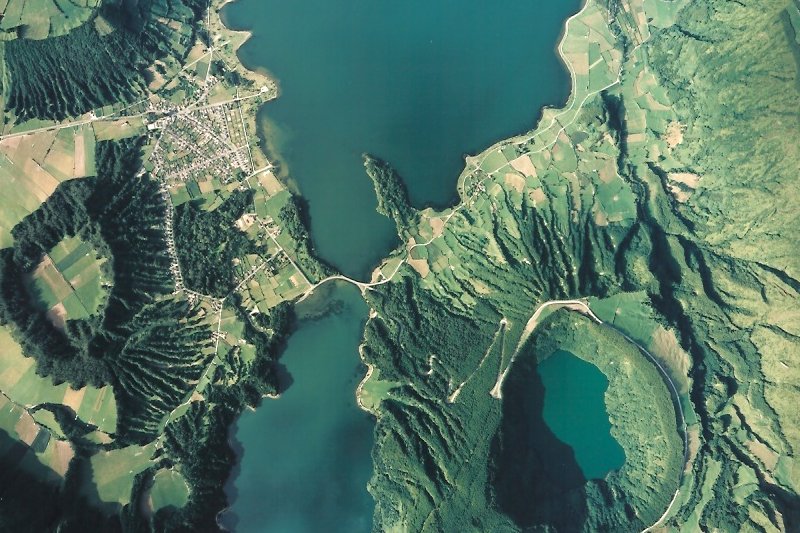 General Info
---
Area: 110.000m2
Client: Secretaria Regional do Ambiente dos Açores
Architecture: Souto Moura Arquitectos, SA
Details
---
The prequalification of the 7 Citys Lagoon Banks , is inserted in a conjunction of actions that the Regional Secretary of the Environment and Sea pretends to implement in the scope of the strategic Plan of the Ordering of the Hydrographical basin of the Sete Cidade Lagoon(POBHSC).
The envisioned intervention considers the implementation, the urban sketch, the construction of a concentration of structures and equipment areas, for recreational use, and to support the usage of the water, the margins and the respective landscape.
It is the aim of the Regional Government of the Azores to gear all it efforts towards the valorisation and ambient re-qualification (namely the quality of the water) of the area.
In order to achieve these objectives, the project is geared towards the global treatment of the perimeter of the Lagoon Banks, including the following interventions:
- Genereal treatment of the road network, making the profiles and the pavement characteristics adequate to the presented reality.
- Installation of the infrastructures in accordance with the necessities of the new equipments;
- Implementation of a drainage system that will contribute to the mass protection of the water in the aspects related with transport of solid matter (phosphorus and nitrogen/azotes), which have contributed along the years for the degradation of the lagoon
- Installation of a natural pool equipped with a biological treatment system.
- Landscape treatment.