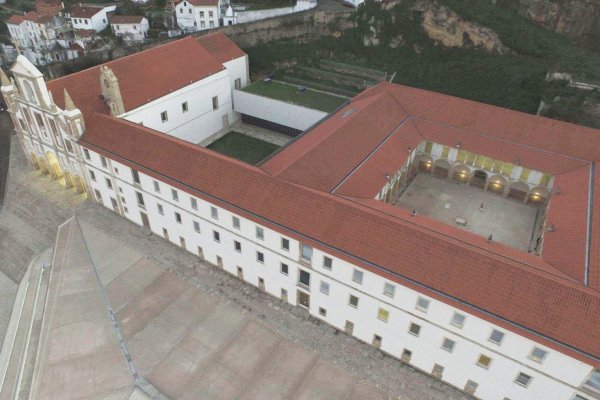 General Info
---
Area: 34.950m2
Client: CoimbraPolis - Sociedade para o Desenvolvimento do Programa Polis em Coimbra, S.A
Architecture: jlcg arquitectos, Lda
Details
---
Dating from the beginning of the 17th century, the Convent of São Francisco served as a hospital, barracks and also hosted a textile factory, having already assumed its new vocation as a Cultural and Congress Center in the 21st century
The intervention consisted basically on two new buildings construction: the Pedestal of the Church in the North of the Convent, where the Parking for 542 cars and an Auditorium for 1.125 persons, as well as the Remodelling of the Convent's building and its adaptation to the new functional spaces.
The three buildings are structurally independent to permit their independent operation and their construction during different time phases.
A solution of slabs eased by concrete blocks supported in a fungiform manner in a column mesh was adopted in the Pedestal (4 floors, 2 underground floors) and in the concrete retaining walls. The performance of the retaining wall by the convent is regarded as one of the interventions of greatest risk. Furthermore, the need to carry out the settling of the foundations of the convent's façade using micro-piles to avoid cracks from appearing on the façades is acknowledged
The intervention at the Convent is divided into two large aspects. The first, regards the rehabilitation of the masonry walls and some vaults showing some pathologies, while the second concerns the construction of new slabs, which will materialise the new defined spaces. This intervention is intended to be reversible in order to preserve the original structure as much as possible. A metal structure connected by wall plugs to the convents walls, on which the floor beams rest and which are also in metal, were defined for this purpose. Intermediate supports were adopted whenever possible in order to decrease the level of loads transmitted to the existing walls and foundations.
The remaining premises stand out because of the systems diversity. These were designed on a case-by-case basis by considering the specificity of the location, the type of construction and respective function within the context of the buildings' global programme.