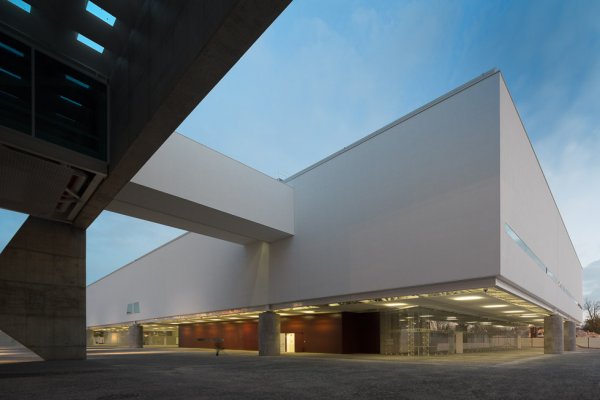 General Info
---
Area: 19.550m2
Client: Instituto de Turismo de Portugal
Architecture: Paulo Mendes da Rocha, Arquitectos|BAK GORDON arquitectos
Details
---
The Museum with a total area of 25.300m², designed by Paulo Mendes da Rocha, is composed by two buildings – the Exhibition Hall and the Annex.

The Exhibition Hall (coach's exhibition area), is composed by a 4.50m high elevated structure with 126x48m and 12m high in the draft.
The Annex Building ensures the necessary support to the operation of the New Coaches Museum, including offices areas, Restaurant and an Auditorium. The Offices Areas and Restaurant are located in 2 "flying bridges" with 46x14m and 46x10m high respectively, supported by a peripheral concrete structure 46x46m high supported only by 4 columns. The Auditorium is located at the ground floor level.
The pedestrian bridge and its access ramps establish a 180m way between the two buildings of the New Coaches Museum.