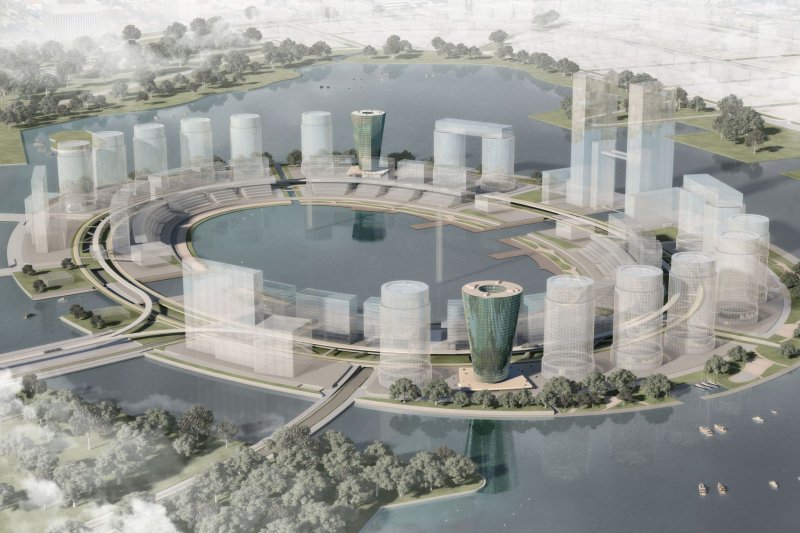 General Info
---
Area: 80.000m2
Client: Zhendong New District Administration Committee
Architecture: Souto Moura Arquitectos, SA
Details
---
Two 120m high office towers for New District Zhengzhou.
Both towers arise from the extrusion of a geometric shape and its metamorphosis from the ground to the sky (top). One grows from an irregular octagon completed with a regular octagon, larger than the base, resulting in a "pyramidal" volume upside down. The other grows from an ellipse, ending in a circle also larger than the base, creating a reversed "conical" volume. The void at the centre is a compositional element which, by subtracting mass of each tower, transforms the core in a negative of natural light.
Tower C3-09 starts with the shape of an ellipse with a transverse diameter of 52m and a conjugate diameter of 39m. At the top, at 120m high, the tower ends in a circle with a diameter of 75m. Tower C3-16 starts with an octangular shape at the base of 41x52m, ending at the top with a octagon with a span of 68m.
The structural system of each tower consists of four concrete cores interconnected with "vertical" steel trusses. The concrete shear walls are located at the main axis and two alignments of trusses are defined between the periphery of the shear walls.
This structural system has a suitable behaviour to resist wind loads and sustain second order effects, while being flexible enough to avoid earthquake peak accelerations.
The design and integration of services in buildings requires a multidisciplinary approach of all the disciplines involved, in which the whole is greater than the sum of its parts. For this reason the work developed at this stage ensures that the equipment and systems needs are fully incorporated in the architecture.
Project developed till Schematic Design stage.