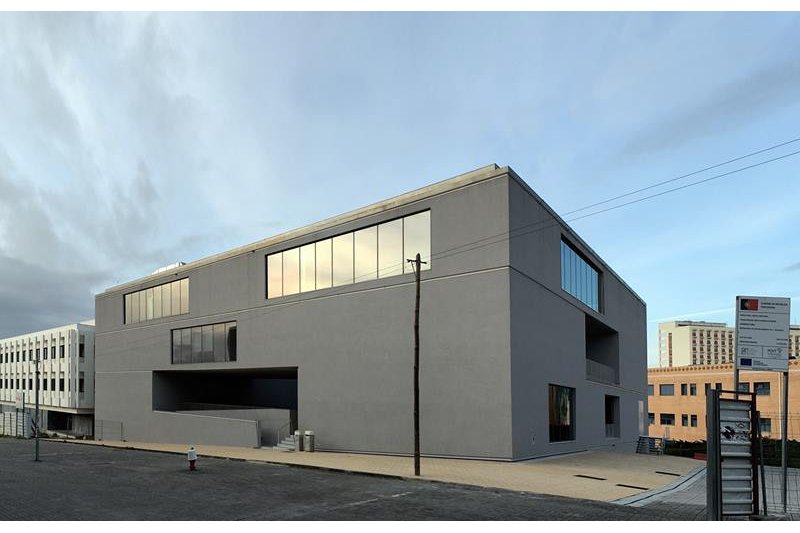 General Info
---
Area: 7.142m2
Client: Universidade de Coimbra
Architecture: Serôdio, Furtado & Associados, Arquitectos Lda
Details
---
The Sub-Unit 3 building is located on the Health Science Campus of the University of Coimbra. Its main purpose is to provide the possibility of incorporating new technologies.
This building has a very rigorous architectural concept, rectangular (42.0x36.0)m, with 6 floors and is established on very uneven topographic terrain.
Its structure is entirely of reinforced concrete, without expansion joint and all the exterior façades are lined with precast reinforced concrete panels. It has four longitudinal slabs and four cross sectional slabs of significant sizes (from 10.0m to 17.7m), bordered by walls of reinforced concrete which consist of the buildings base structure and support slabs with very large width and high rigidity.
The most important characteristic of this Project was the careful study of these walls for gravity actions, wind and earthquakes, given the need for innumerable openings to be incorporated for pedestrian circulation between compartments and the crossing of infrastructures. This hampered the verticality of the forces between the different floors and implied the operation of some walls as "beam walls", and in some cases, using cantilever beams of large sizes.
The careful detailing and specification of elements for finishing in apparent concrete, the characterisation of the constructive phasing of the bracing of walls and slabs and conciliation with projects of highly complex specialties in a building with these characteristics was equally relevant.
The external environment of the building was meticulously well looked after from the thermal point of view, aiming at minimising the influence of the external climate, creating a better environment and rationalising energy consumptions. To this end, and in maximum compliance with architecture, the recommended solutions involved: thermally insulating the surroundings, selecting the glazing and promoting efficient shading systems for the glazing.