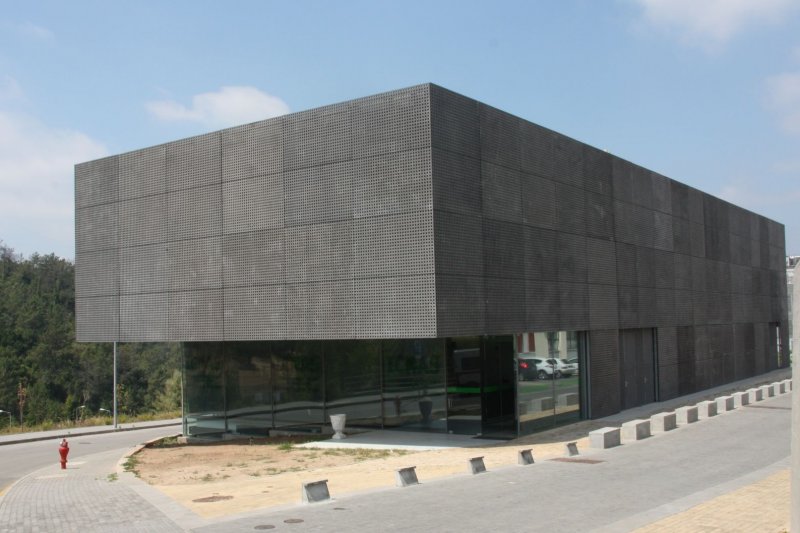 General Info
---
Area: 3.723m2
Client: Universidade de Coimbra
Architecture: Serôdio, Furtado & Associados Arquitectos Lda
Details
---
The building on the Campus II of the University of Coimbra has a "L" form in the drawing. It comprises a sole volume consisting of two underground floors intended for technical classes of P.E.T. (Position Emission Tomography) and Nuclear medicine, a floor on the ground floor level intended for rooms for Nuclear Medicine and a raised floor intended for offices and Board rooms.
The programme imposed functional requirements between "hot areas" and "cold areas" which were expressed into fairly distinct areas on each floor. This made continuous vertical elements throughout the building impossible in some cases.
Reinforced concrete was the material chosen, besides being economically more advantageous, it guarantees protection against the propagation of radiations which some areas of this building require. Its structural design involved a building without any expansion joints. This solution was achieved by including two bodies in cantilever (˜ 10m) over the main body and supported on the latter by two large wall beams.
Besides the purely technical aspects, we stress the high level of co-ordination required between the various services, which result not only from the programmes complexity, but also from the architectonic options, namely, the existence of various concrete elements in sight and a "skin" covering the entire building on the outside.
The project included a set of supply and drainage infrastructures designed on the basis of criteria of intensive requirement as regards the treatment of "hot" spaces from the radioactivity point of view, marking the separation of the sewer systems into three distinct lines (domestic and special).
The solutions proposed for mechanical systems of environment treatment and ventilation promoted conditions of thermal comfort, air quality and other specific conditions required by the various spaces. These were accepted with the owner of the building work with an aim at designing technically simple and economically advantageous systems to investment.