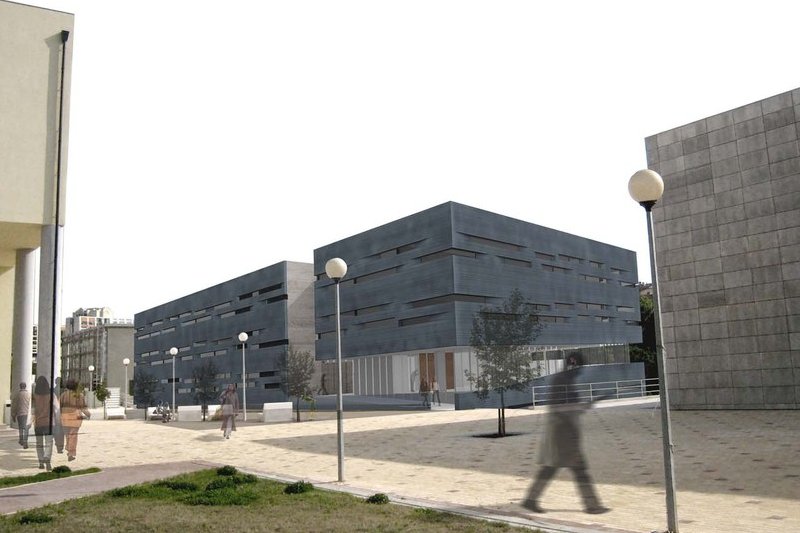 General Info
---
Area: 12.660m2
Client: Coimbra University
Architecture: CVDB arquitectos | AT.93 Atellier de Arquitectura e Engenharia
Details
---
The building, takes place over six floors, a basement, two half-buried and three above the ground. The program includes teaching laboratories and research offices and administrative areas, lounge, bar, rooms for prevention and prophylaxis, pre-clinical training, simulators, classrooms, auditoriums and technical areas.
The structural concept of the building was strongly influenced by the architecture, is the use of reinforced concrete "in sight" in certain areas, the existence of extensive range of console and interior areas of long spans without support.
Different strategies for the rational use of energy were discussed:
- Engaging in: The light colored walls and façades; Adequate levels of insulation, located on the outside;
- HVAC systems:Control of ventilation of the laboratory by varying flow (VAV); Air handling units with free-cooling and recovery of thermal energy in exhaust air fans and variable flow of direct transmission of the Plug-Fan and high energy efficiency, as a minimum class EFF2; Variable-displacement pumps for distributing hot water and chilled water to terminal equipment, and high energy efficiency class EFF2 as a minimum;
- Efficient lighting systems, low level of capacity;
- Utilization of solar energy to produce hot water.
- In centralized technical management system: Control the lighting depending on the occupation of the building and the contribution of natural light; Control and supervision of technical installations.