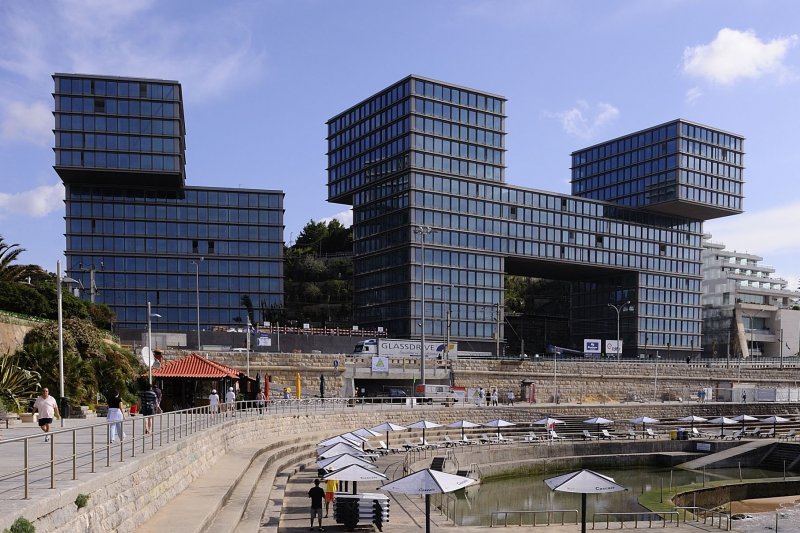 General Info
---
Area: 53.910m2
Client: Estoril Sol, SGPS, SA
Architecture: GB ARQUITECTOS, Lda
Details
---
Estoril Sol Residence is composed by 3 towers with 14 floors intended for housing, one floor at the level of Marginal Avenue for offices and services, as well as, 2 underground floors for parking.
This Complex is located on the site of the former "Estoril Sol Hotel", whose demolition was limited by various constraints, pointing out the following:
– the height of the building (~67m), that made impossible to use conventional means of demolition;
– preservation of the foundation pits on which it is established;
– guarantee that the demolition operations do not cause landslides of the slope with a steep gradient, which is protected by a concrete wall;
– avoid the instability of another hotel at an approximate distance of 10 m from the building to be demolished.
This project faced with some special "features", in particular the use of the existing foundation wells (30m depth), the foundations of new buildings, the existence of a 40m span bridge that connects the 2 towers between the 6th and 10th floor and the development of cantilevered volumes between the 10th and 14th floor of the three towers.
The main goal of the team design involved was the resolution of the issues imposed by the complex architecture and the constraints of the site. The structural design passed through the use of reinforced concrete in the buried floors and steel structure above the ground floor, while they tried to implement integrated constructive solutions such as the type of pavement adopted.
This consists of metal beams, with the slab supported on the inferior flange and on the superior flange level a false pavement where the various installations networks are deposited.