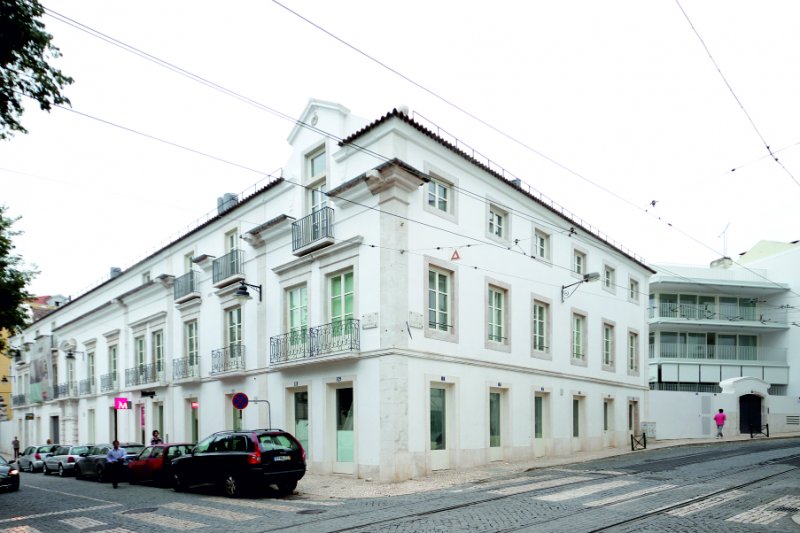 General Info
---
Area: 11.423m2
Client: ARTEPURA, SGPS, SA
Architecture: Frederico Valsassina Arquitectos, Lda | Aires Mateus & Associados, Lda
Details
---
This project foresaw the rehabilitation of two buildings with great heritage value - the Palace and the Church, and the demolition of other buildings for construction of a residential building.

The housing complex is thus formed by two independent buildings, which communicate only by a horizontal circulation at floor -1, thus constituting a condominium for residential.
The new building incorporates a set of 26 housing typology varied over 4 floors, parking areas, storage areas and techniques in two underground floors. For this proposed building is a concrete solution, where the floors are made of solid slabs supported on walls, pillars and metal structure of the facade. In the structure, we highlight the uniqueness of the facades which is characterized by an irregular grid of columns in which there is, in most cases ensured continuity and alignment of the pillars along the various floors.
Once the intervention was in a old building with historical value, the project focused on the use of little techniques intrusive rehabilitation and retrofitting of the building. Will keep all vertical elements compatible with the new "layout" of the occupation of spaces, and presenting a good state of preservation, as structural elements, enhanced where appropriate and whenever possible by techniques and reversible bit intrusive. The floors were replaced entirely by current structural systems, technologically advanced, the new requirements to ensure comfort and safety.