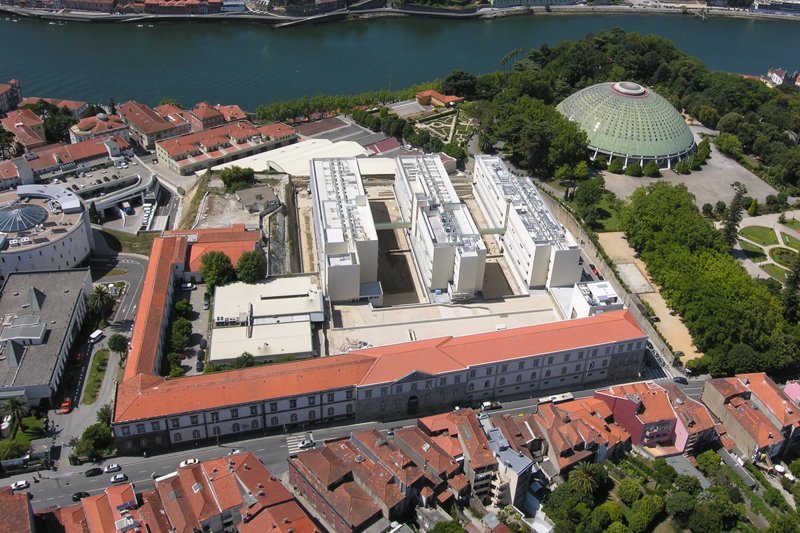 General Info
---
Area: 43.562m2
Client: Porto University
Architecture: José Soares, Arquitecto Lda
Details
---
The new facilities of the Abel Salazar Biomedical Science Institute and of the Pharmacy Faculty from the University of Oporto, will be situated in a shared property by both the facilities of the Headmaster's Office from the University of Oporto and the various services of the Santo António Hospital.
The project of both facilities is organized as a whole, with various shared spaces. It is constituted by 5 buildings, interlinked by a common parking floor. One of the buildings will be connected to the building of the old military headquarters, where the Headmaster's Office is currently running, to be remodelled.
The implementation of the buildings will demand the dismantling of 20 metres of terrain, adopting, where possible, the execution of slopes in the excavation and execution of the buildings through the traditional method of down up. In the cases where this method is not possible, the adoption of anchored contention, "Berlin Wall" type, in reinforced concrete with the excavation being executed by phases with panels of small dimensions.
The main structure of the buildings is in reinforced concrete (pillars and walls that support the flat plates of the floors) whereas steel will only be used in specific cases, such as the bridges that establish the connections between the buildings.
It is important to emphasize that it is from the main distribution cistern, located on an intermediate level and in the centre of gravity of the enterprise that will feed the buildings in general, and each one of the three thermal centres and the three water treatment stations for lab use, located in the roofing. Two water tanks were predicted, one for normal water, distributed through an internal water distribution system, and the other one of salt water, filled through a water switch located in the façade for the connection of the auto tank, destined to the supply of the aquariums.