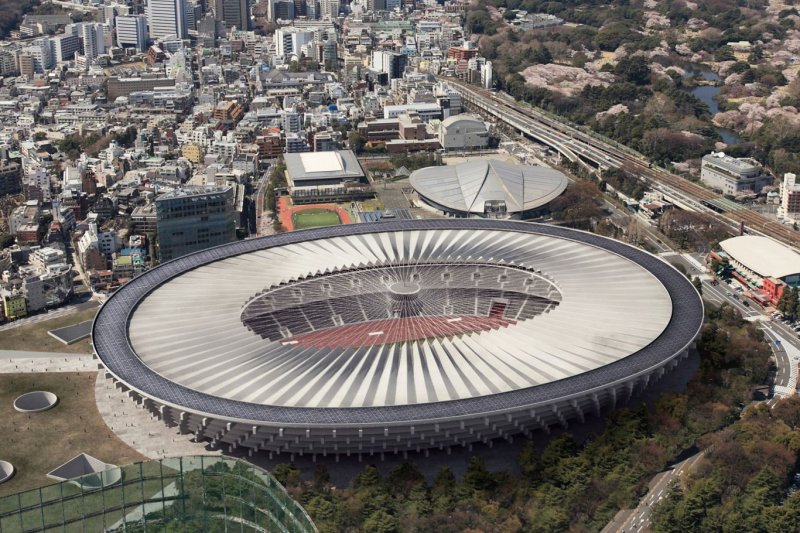 General Info
---
Area: 257.128m2
Client: -
Architecture: Souto Moura Arquitectos, SA
Details
---
The stadium in its perimeter presents a ring with 27 m wide, where the radiocentric accesses converge from different parts of the city.
The building contained in the platform level is composed with the museum, shopping centers, spas, sports education schools, that intend to serve more than the stadium but also the city in general. The surrounding park and the woods can also be a place of leisure for the inhabitants of Tokyo.
The Stadium beyond its specific sportive functions can be used for leisure activities, cultural (music concerts) and for large commercial fairs and exhibitions, since the cover allows to transform it into an enclosed space.
The cables that support the roof are coated with LEDs that can provide spectacles of light and sound creating images of such a scale that will only be possible on this XXI century and that Japan will be capable.
The main roof structure consists of 2 cable layers, each one with 80 radial full locked cables placed according to the spoke-and-wheel concept. The outer compression ring consists of a stiff reinforced concrete section supported by the tribune superstructure.
Between these two main cable layers there is a secondary layer, consisting of 80 radial cables necessary to connect the translucent fixed membrane placed above the tribune. This membrane will be connected to the main upper cables and the secondary cables creating the circumferential and radial slopes necessary to drain the water to the periphery.
Above the playing field a retractable membrane is proposed, opening radially towards the centre and being stored in the central box fixed to the central mast. The retractable membrane will slide over a guiding channel placed above the upper cables.