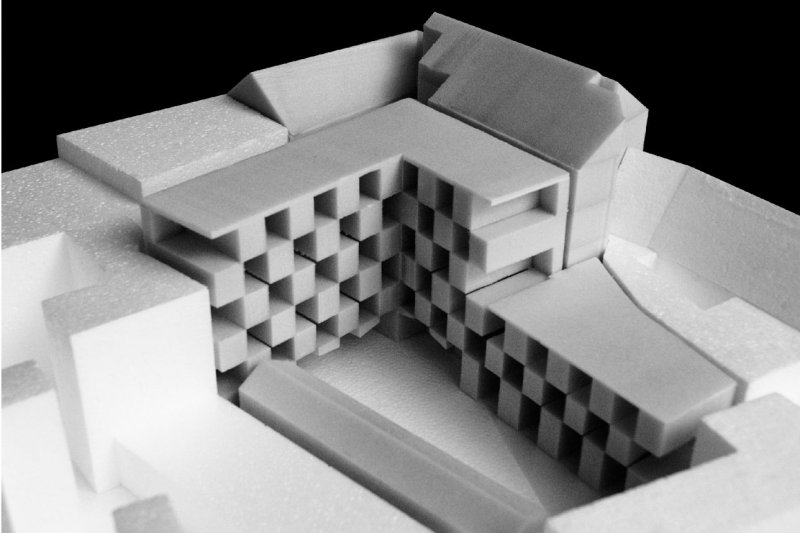 General Info
---
Area: 8.987m2
Client: Aquapura Hotels Resorts & SPA
Architecture: Aires Mateus & Associados, Lda
Details
---
The intervention area is located in the centre of Prague, Czech Republic, near the bank of the Vltava River and includes two existing buildings with a basement and 4 to 5 floors above ground. These buildings materializedan interior courtyard where a third building is implanted, built in the fifteenth century and that has a ground-floor and a raised floor.
The buildings are now situated in the protected zone of Prague urban network, classified by UNESCO, and thus limited the intervention in light of restrictions of the National Institute of Monuments. These limitations include the imposition of floors rehabilitation and wooden roofs in the case of newer buildings, and the complete rehabilitation and restoration of the building from the fifteenth century.
Moreover, the ground located in this area has a high archaeological value which requires the coordination of work, in order to integrate the necessary archaeological excavation.
The programme of the Hotel foresees the construction of a luxury hotel complex, composed of 45 rooms and 18 apartments. The apartments, although they are for commercialization, they will have access to the services provided by the hotel. Apart from these areas, the Hotel will include a SPA and all areas usually included in such undertakings, in particular, restaurant, bar / lounge and business centre with library and conference rooms, etc..
These areas will be distributed by the existing buildings and also by a new building to be built, with 5 floors above ground and two basement levels, with an underground car park and the vast majority of the technical areas and Hotel services.
The fulfilment of the project objectives is technically complex due to a number of particular characteristics: the need for rehabilitation and restoration of existing buildings, the small and confined area of deployment, the restrictions imposed by the National Institute of Monuments and the need to find solutions that will meet the proposals from the team of architects.
In order to satisfy a creased premise from the costumer and also the team designer concerns with sustainability, studies will be formulated with the purpose to present and explain the technical options to the rational and efficient use of energy and secondly to ensure a sustainable global solution.