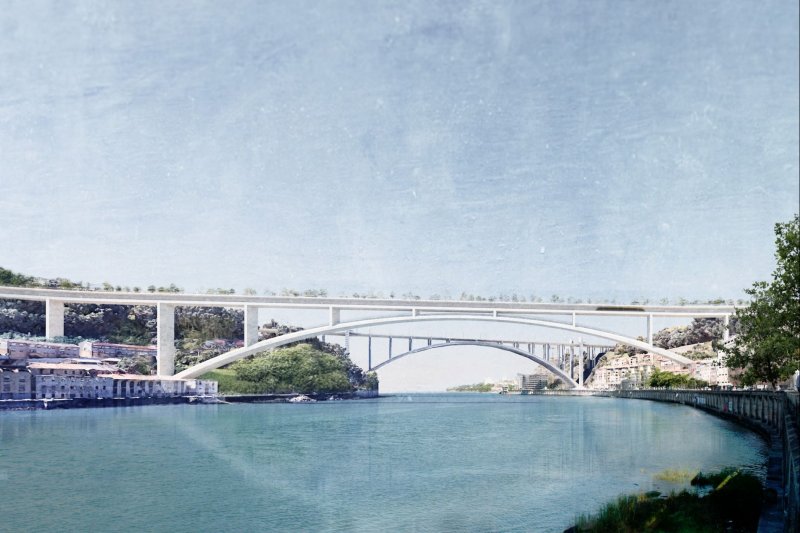 General Info
---
Area: -
Client: Porto Municipality | Vila Nova de Gaia Municipality
Architecture: ARUP | Proap | Manuel Aires Mateus
Details
---
Proposal for the Conception of the New Bridge over the Rio Douro that will be used by pedestrians and will serve the metro network, connecting Casa da Musica in Porto, to Santo Ovideo in Gaia.
We highlight the following characteristics of the presented solution:
- Due to its slight curvature, the arch of the bridge would allow it to be crossed by pedestrians, ensuring the pedestrian connection between the two cities. The high/low level connection through elevators on both banks of the river would allow the capture of residents of the riverside areas to the train.
- The exit from Porto within a Tunnel, near the Faculty of Architecture, would reduce the impact of the Viaduct in the Golgota Neighborhood / House of Agustina Bessa Luís, and would place the train below the upper deck, such as would allow a smoother integration of the bridge`s arrival to Porto.
- Placing the metro below the pedestrian deck would allow the construction of a garden bridge.
- The layout of the new bridge further downstream - at the limit of the protection zone of Arrábida Bridge - would allow the reduction of its span in about 90m, with the consequent implication in costs.
- Placing the arch supports away from the sidewalks would allow a construction with less impact on traffic.
- A solution with a lower arch and a box-shaped upper deck would be built using the construction processes currently used in this type of bridge and accessible to a large number of contractors, with the inherent minimization of financial risks. The use of the height of the box deck section would allow the separation of flows into two different levels (meter on the lower level and pedestrian circulations on the upper level), as well as the placement between their cores of the thickness of earth necessary to materialize a public garden at the top level.