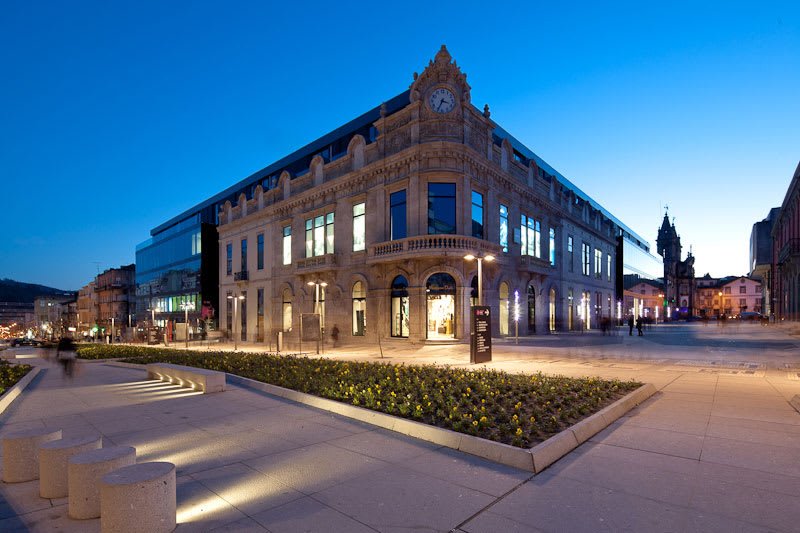 General Info
---
Area: 31.704m2
Client: JAVERE Imobiliária, SA
Architecture: GB Arquitectos, SA
Details
---
"Liberdade Street Fashion" includes the requalification and construction of a new the block located in the historic centre of Braga. The program contemplates the mixed use of new space taking advantage of the complementarity between the car parking, the commerce, services and housing to reinforce the centrality of the historical core of Braga.
The intervention pretended to give the block a possible unit and hereby has been decided that the lot should be occupied until the outer perimeter to form a built block. There were some limitations imposed by the need to preserve the façades of the old CTT building and the façade of the Palace in the S. Lazarus Street. such as to preserve PT facilities, where there implanted vital infrastructures to the functioning of telecommunications networks of the city of Braga.
In general, the volumetry follows and respects the height of the existing building, corner of the Liberdade Avenue with Dr. Ricardo Sampaio St., and the occupation in height will be mostly of 4 floors - 3 floors plus the penthouse in the Trade Building, 3 floors plus 2 penthouses in the Housing Building and 2 floors plus 1 penthouse in the isolated Trade Building.
The buildings with view to the Liberdade Avenue and Dr. Ricardo Sampaio St. present trade characteristics in the 3 inferior floors and services in the last floor. The building in S. Lazarus St. has 5 housing floors, and the building in the Raio St. has trade on the ground floor and housing in the two upper floors.