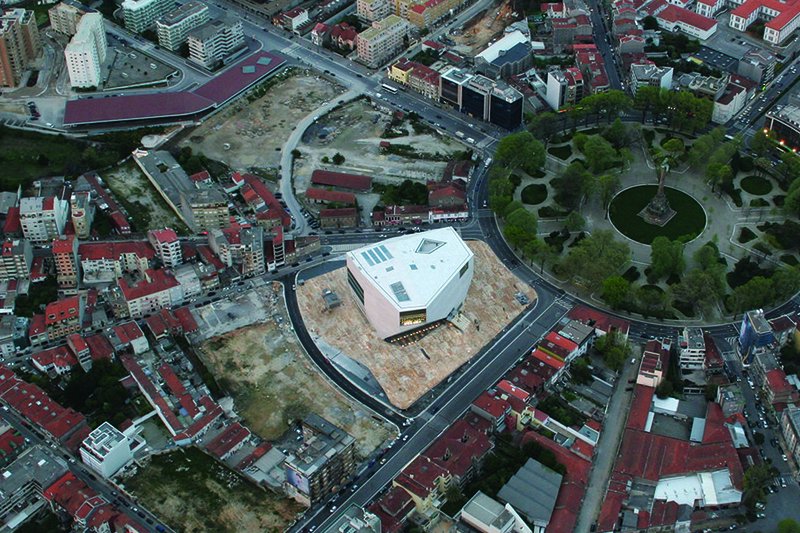 General Info
---
Area: 48.636 m2
Client: Porto 2001
Architecture: Rem Koolhas
Details
---
Casa da Música is a building in which architecture and engineering are inseparable and mutually reinforce each other. The challenge was to "integrate" a complex functional program into an object of atypical form, while making the supporting structure an integral part of the spatial concept of architecture. The building is composed by 2 auditoriums for 1087 and 287 people, rehearsal rooms, music store, VIP room, 2 restaurants, 1 cyber-cafe and a car park. The engineering design was carried out in consortium with the company Ove Arup & Partners - Consulting Engineers for the "Oporto 2001" (capital of the culture).

Extremely demanding project in technical terms, given the use conditions of the spaces necessary to ensure in all circumstances and to the fact that we had to ensure the acoustic insulation of the services trajectory, often quite sinuous.
The irregular geometry of this project, both internally and externally, presented additional challenges to all members of the design and construction team. For this reason, the services trajectories and location of openings had to be planned and positioned in a non-rectangular three-dimensional geometry.

Similarly, the structural trajectory of the force had to be identified and verified in the same geometry.

The fact that the structure is of white concrete with all service elements hidden, forced to an extraordinary coordination between the structures and services designing teams. The type of (white) concrete required special attention in order to ensure the absence of visible fissures.
The project took place over five years with an international team with no less than 14 elements. afaconsult, besides providing specific technical information, was involved closely and continuously in all phases and coordination of the project.