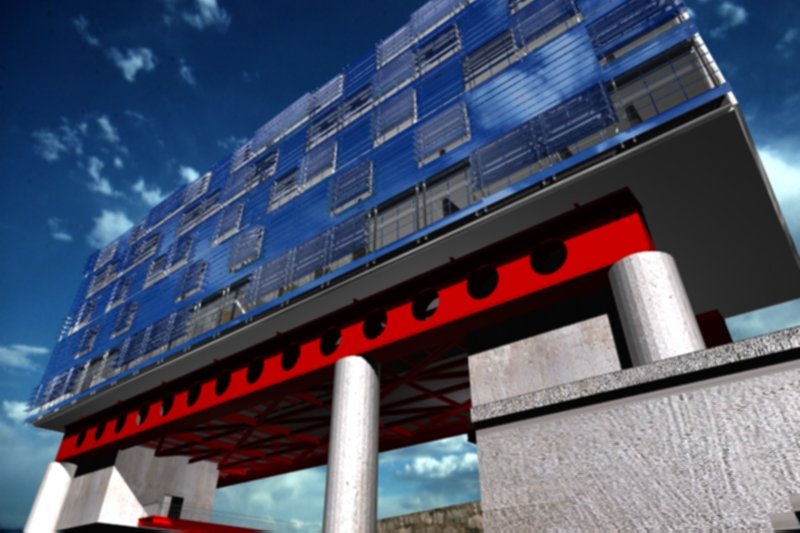 General Info
---
Area: 10.020m2
Client: Metro do Porto, SA
Architecture: Souto Moura Arquitectos, SA
Details
---
The main characteristic of this 7-floor office building was its deployment over 2 metro lines, one at the surface and the other in a tunnel.
This constraint imposed a support structure highly constrained by the few possibilities for the localization of the buildings main columns. A basic structure type "table", constructed by six columns with variable height in concrete (˜ 18m), all with a constant circular section measuring 2.50 metres in diameter was idealised, on which is supported a highly rigid "deck" formed by a box girder with 3.30 metres in height reaching the spans between columns (36.25 and 15.5m according to xx and 14.10m according to yy). There are three lattice beams in the smallest distance, with approximately 3.0 metres distance between flanges, which ensure the rigidity of the "deck" in that direction. The buildings entire structure is developed from this highly rigid "deck".
Stability for the vertical actions was ensured by a three dimensional orthogonal mesh formed by columns and beams, whereas for the horizontal actions, this was achieved by two "towers" which develop on the inside of the vertical circulation nucleus.
The Mechanical Engineering speciality assisted the architecture via an adequate selection of materials. An energetically efficient building was thus able to be designed with no detriment to the quality of the interior air and to thermal comfort.
Seeing as this is an office building, a clear bet was made on an innovative network of global data and future systems of active visual communication (TV Video) or for Public Information systems.