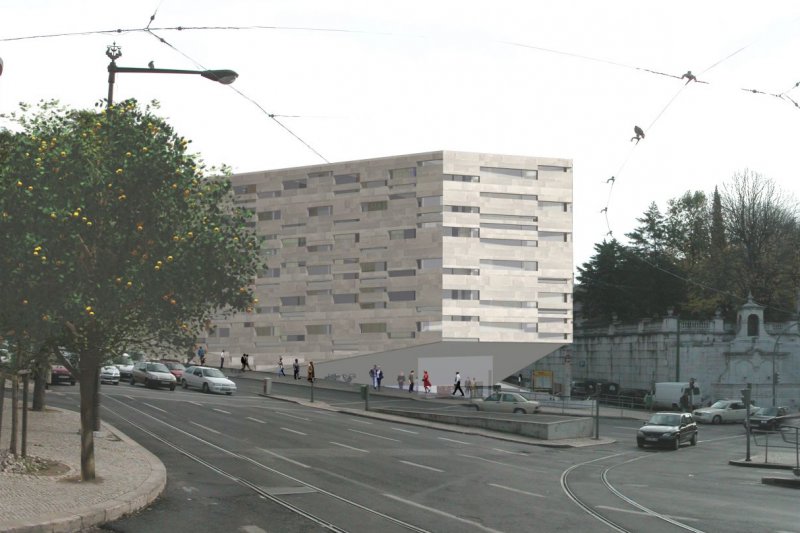 General Info
---
Area: 9.982m2
Client: Aldiniz - Sociedade de Gestão Imobiliária, Lda
Architecture: Frederico Valsassina Arquitectos | Aires Mateus & Associados
Details
---
This Building as an irregular drawing, approximating a trapezoidal shape consists of 6 underground floors for parking and a Health Club, an entrance floor and 7 floors above the ground for housing. It presents a rather unusual external geometry. Its main characteristic is that a large part of it is in cantilever and a large part of its development in the drawing is not in contact with the ground at the level of floor 1.
This discontinuity in the buildings global and external geometry causes greater difficulty in the entire structural design and imposes an unusual structural solution consisting of two cantilever façade walls, a triangular shaped nucleus, two metal trusses parallel to the façade wall between floor 2 and the roof and an existing wall in reinforced concrete on the rear side of the building. In order to provide rigidity to the area of the building in cantilever, various walls in reinforced concrete were also anticipated between floor 1 and 2.
The slabs below floor 2 (inclusive) are in massive concrete and are supported on peripheral retaining walls, on the nucleus and on two reinforced concrete columns that develop from the foundations up to floor 0. The slabs above floor 2 are mixed (collaborating metal sheet + concrete) and these are in turn supported on beams of also mixed operation.
A particularity about these buildings hydraulic facilities arises from the lack of physical space at the technical floor level (-6). A pumping set for the underground fire network with an external engine was therefore anticipated.