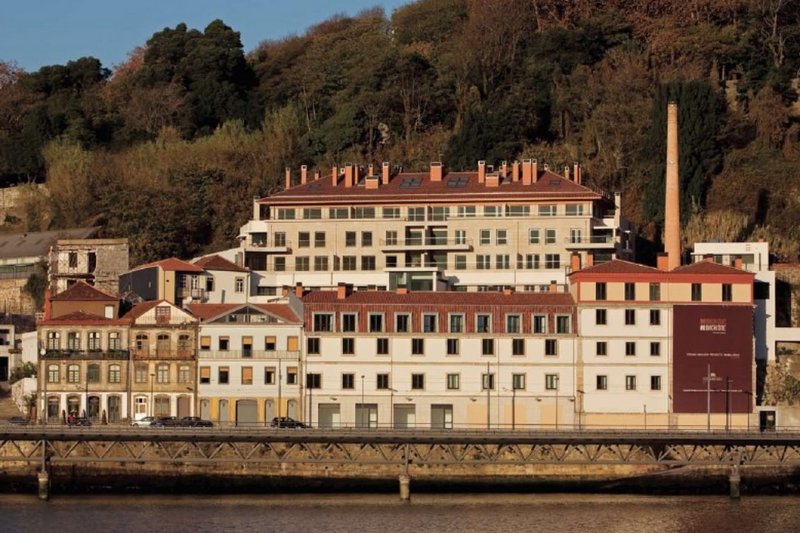 General Info
---
Area: 7.217m2
Client: RAR Imobiliária, SA
Architecture: Cúpula - Consultadoria e Projectos, Lda
Details
---
The Monchique Residential Complex is constituted by three buildings localized in a lot, limited in the southern sphere by the Monchique Street and in the northern sphere by the Restauração Street, with a differential level of approximately 16 metres. The project envisions the usage of some of the existing elements, namely the façade in the Monchique Street, a brick chimney and some granite walls.
The building parallel to the Restauração Street, with access through this street, includes two parking floors, with an implantation area of approximately 1.100m2, and four floors for residence that gradually back up in height in relation to the southern limit of the parking floors.
The structure of the building is composed by bulky slabs, which are supported by a net of pillars with certain regularity, with adjustments to the positioning of vertical elements that are a consequence of the definition of the spaces in the architectural project. The slabs have, in general, a thickness of 0.25m, except on the third and fourth floors that has a thickness of 0.30m, where pillars arise in the retracted limit of the façade and where the slab of the sloped roofing is supported. The interruption of some of the pillars by architectonical conditionings, in the garages, in the ramp and in the southern façade is resolved with high beams.
In the eastern limit, a new building of two floors will be erected, implementing an underground, trapezoidal in plan and with structural characteristics that are identical to the latter one. The phasing of the construction and the contention project were the most demanding aspects of the project due to the hazardous topography, to the necessity to maintain the structural elements by imposition of IPA/IPPAR identical to the neighbouring ones, which do not present the desired conservation and were target of some careless interventions.