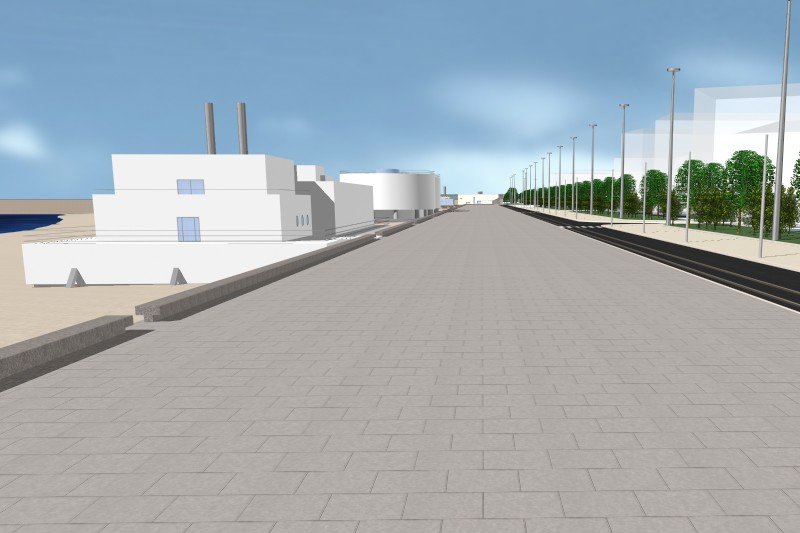 General Info
---
Area: 2.020m2
Client: PolisMatosinhos, SA
Architecture: Souto Moura Arquitectos, SA
Details
---
Taking as reference the river boats, the Swimming Pool Building was conceived for the shoreline road at South Matosinhos. To be erected at the Praia (Beach) area it will be accessible via an elevated passageway, starting at the sizeable platform of the pedestrian pathway along the shoreline road.
Built in a unique structural rectangular block, measuring 57.5 m long and 20 m wide, it will have three storeys, two of them aimed at technical purposes only. The ground floor right on top of the sand shall accommodate all technical areas for the swimming pool, whilst the higher level, immediately above and named main level will encompass the swimming pool itself. This intermediate or mezzanine floor has a double height with the swimming pool sharing the space together with the bathhouse, and other related support areas. The higher level exists only to accommodate the technical needs of the mechanical equipment of the swimming pool, having 3.5 m long and with the same width as the building.
From a structural point of view, namely its fundamental geometrics, it should be noted that in the surrounding area the main level and the swimming pool cover are "balanced" from a foundation which "lies" on the ground and delimits the lower level, in a manner that affects all structural design.
The structural concept of the building is obviously induced by architecture, with the higher volume being supported from the foundation in reinforced concrete, with reticulated steel structure. The lattices of the longer raised wall are indirectly supported by the transversal lattice placed over the walls of the concrete box. The swimming pool cover is made of steel sheets, on top of which there is the insulation material topped by aluminium sheets, supported by longitudinal joists and supported by transversal lattice beams, at convenient spacing, to cover the span of around 20 m. The total construction area is 1,830 sq m, including the bathhouse, sanitary facilities, technical areas and a small support bar. The swimming pool dimensions are 13 m x 25 m.
In relation to the hydraulic circuits associated with building a swimming pool, there was special attention regarding the requirement from Matosinhos Town Hall to use salty water. Even though the swimming pool is close to the sea, there was no local place where one could pump at surface level in secure manner quality water, thus, it was decided to create an underwater intake next to the swimming pool building, to pump salty water at low depth.