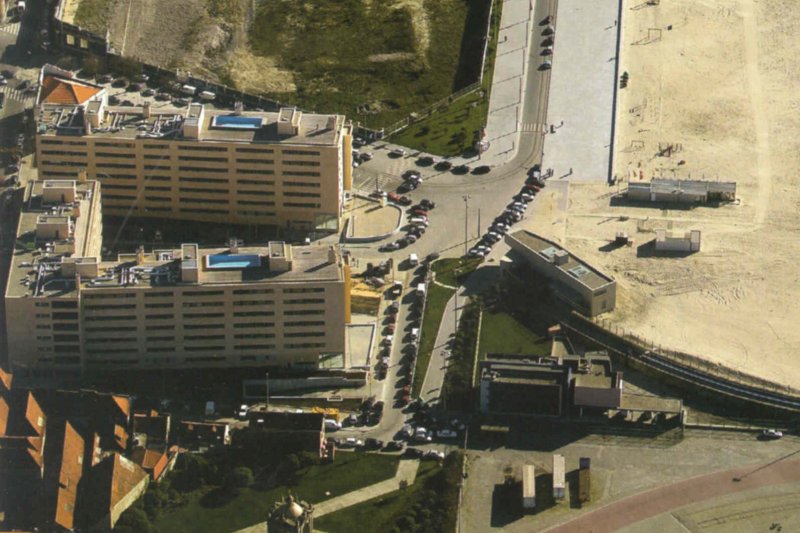 General Info
---
Area: 35.533m2
Client: RAR Imobiliária, SA
Architecture: Rogério Cavaca - Arquitectos, Lda
Details
---
This Residential Complex has two buildings, one rectangular in plan and the other L-shaped, with seven floors each, having in common two basements levels and the ground level. The ground floor is used both by commercial and residential whilst the upper floors are entirely residential. All car parking is made in two basement levels.
The structure is of reinforced concrete with horizontal stability being provided by the lift/stair cores. The columns are on a basic six metre by six metre grid, with the dimensions varied locally to accommodate the flat layouts. The floor structure is a 37cm thick waffle slab.
All heating is based on individual wall mounted gas boilers that provide hot water and central heating to each unit. Bathrooms, kitchens, dressing rooms etc. have air extracted mechanically through vertical ducts grouped strategically in plan. The air supply is granted through permanent louvres placed in the façades. The air in the basement car parks is mechanically ventilated with ground level intakes. Stair shafts above ground level are naturally ventilated with the shafts in the basement having mechanical ventilation.
There is an outside swimming pool as well as roof top pools. These are heated, by heat pumps, to prolong the periods of use.